This is my raytracing gallery. All images were produced in various versions of POV, a free raytracing package. The majority of the images were produced for the IRTC.
As well as complete images, you'll find a few utilities, such as a calender include file.
Click on a thumbnail to view a larger version.
Summer Tree
Varient of Winter Tree (not entered for IRTC).
Source: TMSUMMER.ZIP
Winter Tree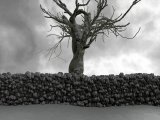 For the IRTC April 2002 Round, "Winter".
Source: TMWORLD.ZIP
Lucy's Arrival in Narnia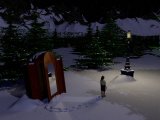 For the IRTC February 2002 Round, "Worlds within Worlds".
Alternate, lighter version avaible at: tmworld_orig.jpg
Won the artistic merit award. Still waiting for the merc.

Source: TMWORLD.ZIP
Figure Source: LUCY.ZIP
Superman and the Fortress of Solitude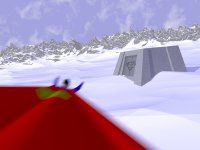 For the IRTC April 2001 Round, "Fortress".
Krishna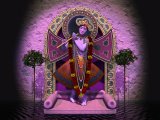 Entry for IRTC Febuary 2001 Round, Worship. See tmworsh.txt in the zip file for rendering notes.
Source: tmworsh.zip
Mesh, etc: worsh_extras.zip
Contrasts

Entry for IRTC December 2000 Round, "Contrasts" (No scene file avail. - if you're desperate for it, mail me, and I'll see what I can dig up.
The Laboratory
Entry for IRTC October 2000 Round, "The Laboratory"
Source: TMLAB.ZIP
Storm in a Teacup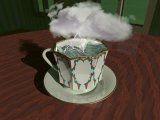 Entry for IRTC August 2000 Round, "The Ocean"
Source: TMSTORMC.ZIP
Calender Generator Include File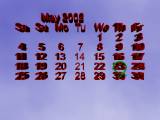 Ooo - a utility! This is an include-file that can generate a day-of-the-week-calender-month text object for any arbitary year/month.
Several options, including the ability to specify another object to be attached to a particular date, and to specify a day-of-week offset.
Sample scene is included (the rather awful jpg-mashed image used here). For the sample scene, the following params were used:

/*
Params for MakeCal:
Year = Gregorian Year [int]
Month = Gregorian Month [int 1 -12]
MarkDay = if not 0, unions CalObj with that day
CalXOff = space between dates [num]
CalYoff = space between rows [num]
CalFont = font to use [string]
CalExt = extrusion on text object [num]
CalSpace = inter-char spacing [num]
DayOff = day off-set, [num] 0=sunday, 1=monday, ... 6=saturday
CenterOff = x-adjust for month-year header [num] adjust for centering of heading
CalObj = object to use at Day
*/

MakeCal(2002,5,23,2.0,1.0,"c:/windows/fonts/arial.ttf",1,0,6,2.6, myObj)

Source: CALENDER.INC
The Raft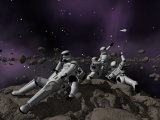 Entry for IRTC June 2000 Round, "Wilderness" - based on "The Raft of the Medusa". Well I thought it was on-topic.
Source: TMWILDER.ZIP
City of the Balloonists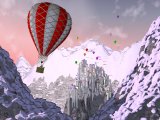 Entry for IRTC April 2000 Round, "Cities"
Source: CITY.ZIP
The Ruins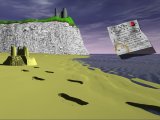 Entry for IRTC February 2000 Round, "Ruins"
Source: TMRUIN.ZIP
The Last Garden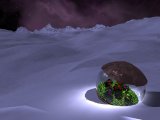 Entry for IRTC December 1999 Round, "Gardens"
Source: LASTGARD.ZIP
Cthulu Awakes
My first entry for the IRTC November 1999 "Horror" round. The zip-file contains all the necessary code to render.
Source: TMCTHULU.ZIP
Solar Race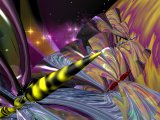 Space 'n' planets - an early effort.
Source: 3SHIPS.POV
Hearts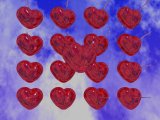 Lots of pierced red glass hearts - I think I did this for one valentine.
Source: HEARTS.POV
Happy Christmas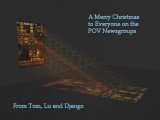 Posted to the POV newsgroup, December 2000 (text added in PSP).
Slouching Towards Bethlehem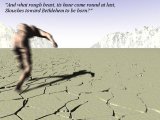 Based on a line from Yeats.
Lightning and Mountains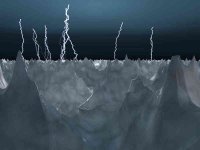 An experiment with radiosity (if you don't know, you don't want to).
The Silver Surfer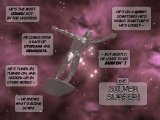 The Silver Surfer - text added in PSP
Media Sphere

Playing about with media (gas, liquids, etc.)
Fat Freddy's Cat

Love that shit kicking music...
Serendipity

Came across this by accident one day... (no source :( )
Impossible Triangle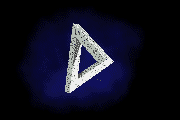 A famous visual trick - another version is used as the background. The 640*480 version is, needless to say, not animated.
Source: TRIANGLE.POV
The Dungeon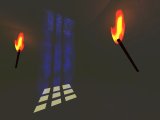 Early play with 3.1 media.
Source: DUNGEON.POV
Standard Colours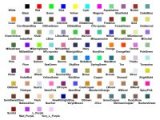 A color chart for colors.inc - really unsuitable for jpeg format.
Source: COLORS.POV
Standard Patterns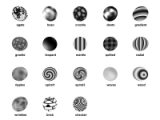 Most patterns - I've avoided those that are only useful in media. In general the pattern scale is 0.2 on a 0.35 radius sphere. Black represents a pattern value of 0, White 1, with varying shades of grey as intermediate values.
Source: PATTERN.POV